Parents & Family

Your student is thinking about or possibly has decided to study abroad. We hope you are proud that they are interested in seeing more of the world, making new friends, developing cross-cultural competence and enhancing his or her academic career prospects.
As a parent, it is often very exciting and sometimes scary when a student studies abroad. Will they be safe? How can we afford to let them study abroad? How can I contact them while they are overseas? Perhaps a question you may be asking yourself is "How can I help?" These are among the many questions that will be asked during the planning stages of your student's study abroad experience.
When your student makes the decision to study abroad they will be spending the semester attending to logistical matters, as well as the mental and emotional preparations involved in studying abroad. We know you will be with them every step of the way. This guide was designed for parents to help their students get the most out of their study abroad experience. We hope you will find it useful and helpful.
---
The Benefits of Studying
In today's global society, international experience has become an essential component of higher education. Studying abroad enriches a student's academic experience. They get to live in interesting places, have many opportunities to visit historically and culturally significant sites, examine artifacts they have only read about and interact with local students and faculty. Many will have to adjust to the rigor of a new academic system that usually demands more independence and initiative. Many students return to Baldwin Wallace after their semester abroad more focused, and with a better idea of what they want to accomplish after graduation. The challenges that come with living in another culture, forces students to perfect interpersonal and communication skills, increase their sensitivity of other cultures, become more adaptable, assertive and independent.

We are increasingly becoming a global community and marketplace. Overseas experience can enhance students' professional credentials. Studying abroad makes your student highly marketable, enhances their resume, strengthens their ability to communicate despite barriers, and provides them with overseas contacts. The personal characteristics and new perspectives that students develop while overseas are valued more and more by companies who seek employees who can speak a second language, thrive outside their comfort zone, and work more comfortably in a diverse environment.

Your student's decision to study abroad will be a worthwhile investment!
---
The Student's Responsibilities
The Explorations/Study Abroad Center is here to assist your student while they are preparing to study abroad. We are available to help them through all of the stages of studying abroad – researching the "perfect" program, assisting with the application process, offering tips on packing, and providing correspondence while abroad. We also offer an orientation session prior to departure. While we are always available to answer questions and offer assistance, the student should assume the primary responsibility of staying on top of things.
We expect the student to complete all BW Study Abroad and the host university required forms in a timely manner, obtain course approval, secure requisite travel documents, make travel plans, and do the necessary preparations for life overseas (familiarizing themselves with the host country, getting information about the academic program, talking with returned and exchange students, setting up a communication plan with family and friends, attending to financial matters, and others).
Upon acceptance to the host university, your student will receive information and important documents by mail or email. These materials could include an official letter of acceptance, housing information, preregistration forms, visa application information, arrival instructions, orientation information, and general university information.
We encourage students to keep you informed about their study abroad program or to refer you to the appropriate websites and resources for additional information. The federal law known as the Family Education Reform Privacy Act (FERPA) prevents us from releasing information that concerns students, even to immediate family members. Students can choose however to give our office permission to release information to specified individuals by completing the "Release of Student Information" form located on their BW Study Abroad Application Portal. If you have any questions your first point of contact should be your student who will most likely have the information.
---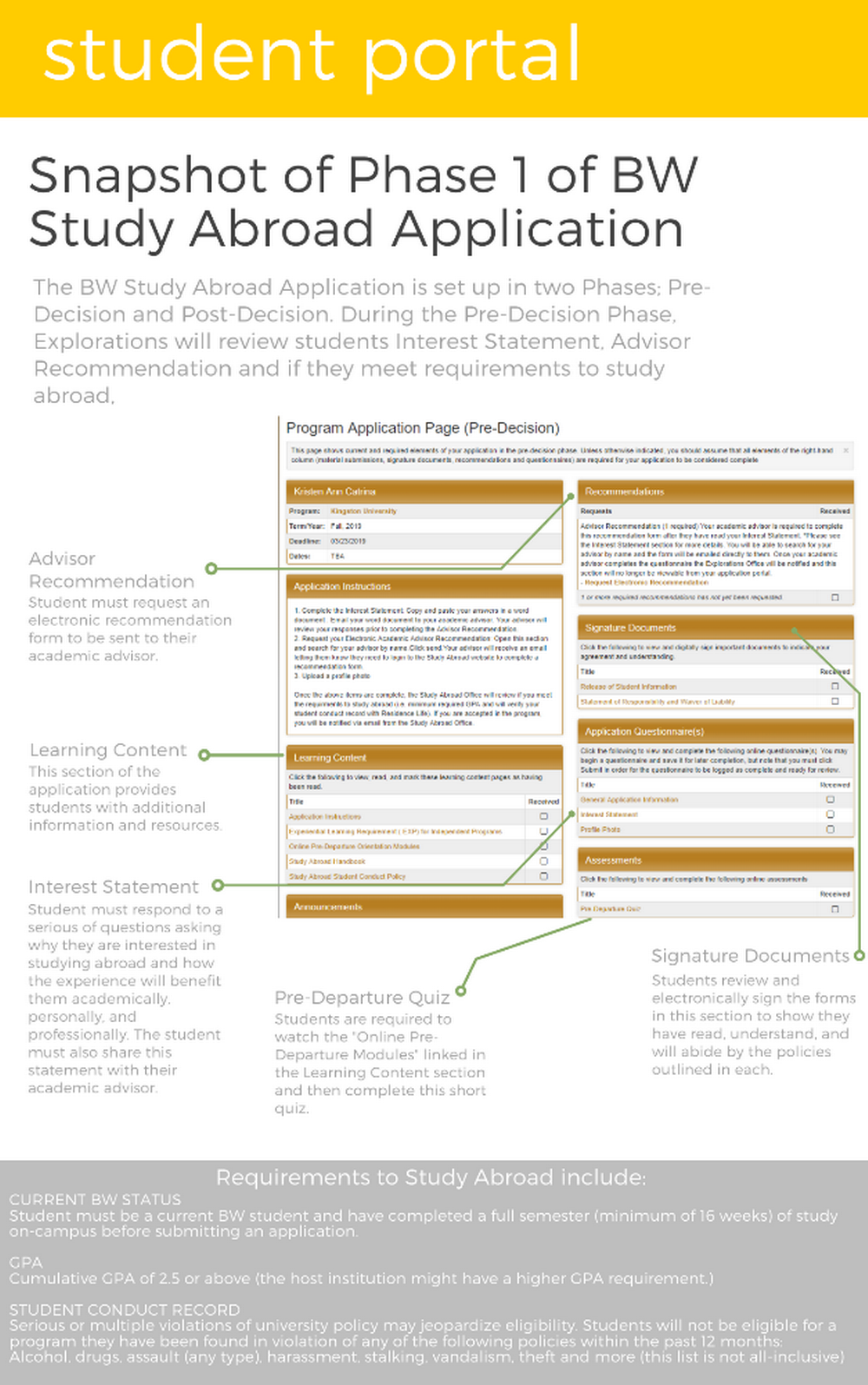 ---
After students have been accepted by BW to study abroad, their application will move to the Post-Decision Phase. During this phase students will have additional forms to complete and will receive more information to help prepare them for their program abroad. Students participating in full-semester independent programs will also now have access to the host university application (application process varies by university). In addition, students will receive a request from Explorations/Study Abroad asking them to set up a "next steps" meeting with an advisor. This meeting will discuss all of the items below, including the host university application, housing abroad, booking flights, visa requirements, financial information and more.