Cultural Readjustment
Cultural Readjustment
Returning to the United States after studying abroad can be challenging and you may experience re-entry shock and challenges readjusting to life back on your home campus. Re-entry shock is also referred to as reverse culture shock, it is real and it is normal.
Re-entry shock may look like: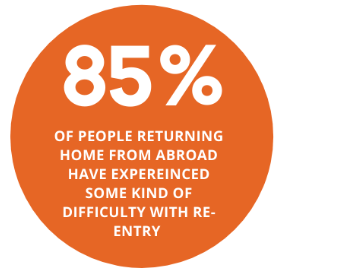 Restlessness
Rootlessness
Depression
Boredom
Uncertainty/ confusion about the future
Changes in life goals and priorities
Others don't seem to understand you
Alienation, isolation and wanting to be alone
Negativity or intolerance toward the U.S. including common behaviors, attitudes, and customs
Missing people, places, attitudes, or lifestyles of your host country
Resources
The resources below contain reflection activities and videos that can assist you in understanding your experience, remembering, analyzing, and interpreting your time abroad.
Keeping Your International Experience Alive
Some great ways to keep your study abroad experience alive and part of your life back on campus include participating in local volunteer opportunities that have an international connection, participating in cultural organizations, leadership experiences and attending cultural events on campus.
Join a Cultural Organization on campus
Become a Study Abroad Peer Advisor, the Peer Advisor Program connects study abroad alums with students who are interested in studying abroad and provides you the opportunity to share about your study abroad experience with campus – email explore@bw.edu to learn how to apply for the position.
Become an International Student Ambassador, as an Ambassador, you have the opportunity to welcome international students to the US and help them adjust to BW. E-mail ISA@bw.edu to learn how to apply for the position.
Assist with and attend cultural events on campus such as the Study Abroad Fair, I Heart Travel Week, Culture Night, and the Academic and Cultural Events Series (ACES).
Participate in a service opportunity with The David and Frances Brain Center for Community Engagement
Enroll in the BW Peace Corps Prep Program: Bringing together BW coursework with purposeful service and intercultural experience, the BW Peace Corps Prep program provides a pathway to prepare students for international development work and potential Peace Corps service. Email peacecorps@bw.edu to get started!